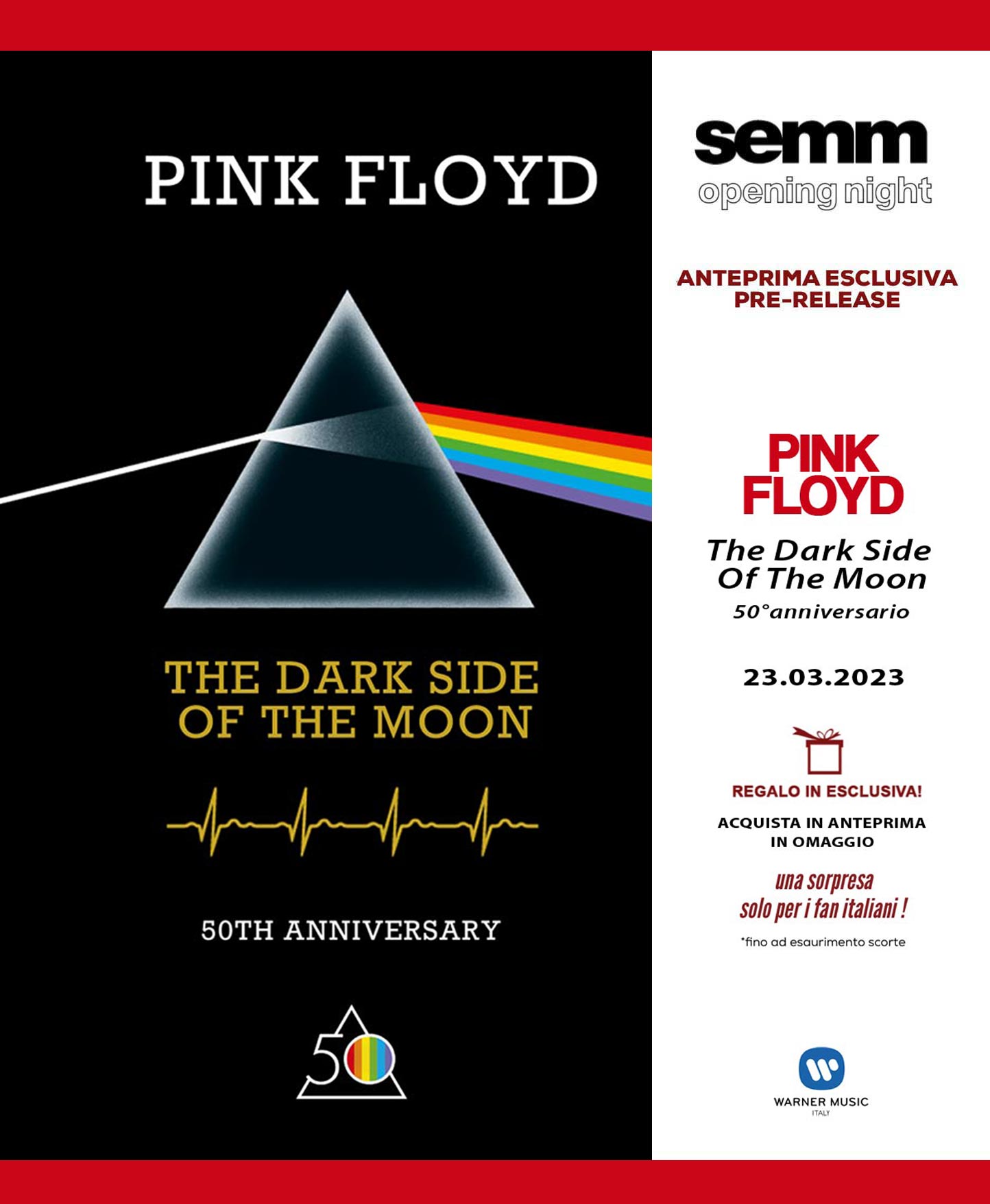 Details
About event
Semm Opening Night
PINK FLOYD
The Dark SIde Of  Moon
50° Anniversario


Box De Luxe Special Limited Edition 
vendita in anteprima nazionale
23.03.23 | ore 21:00
REGALO IN ESCLUSIVA PER I FAN ITALIANI
ACQUISTA il box in anteprima⁣ in OMAGGIO l'esclusivo gadget limited edition⁣
*fino ad esaurimento scorte⁣  Consigliato preordine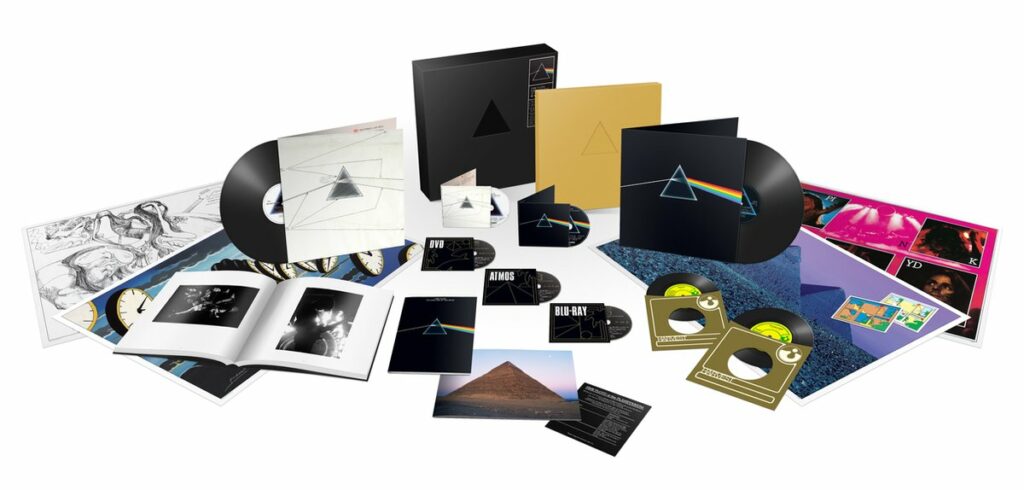 🛍 prova il nuovo servizio
CLICK & COLLECT
ordini comodamente da casa e ritiri in negozio senza spese
—————————
⚠️ Con #18app, 500 euro da spendere in musica (cd/vinili) da Semm !!⠀⠀⠀⠀⁣
50 ANNI DI THE DARK SIDE OF THE MOON: IL CAPOLAVORO DEI PINK FLOYD
1° marzo 1973 la band di Roger Waters, David Gilmour, Nick Mason e Richard Wright pubblicava uno degli album più influenti, rivoluzionari e di successo nell'intera storia del rock, destinato a cambiare per sempre il modo di registrare e ascoltare la musica.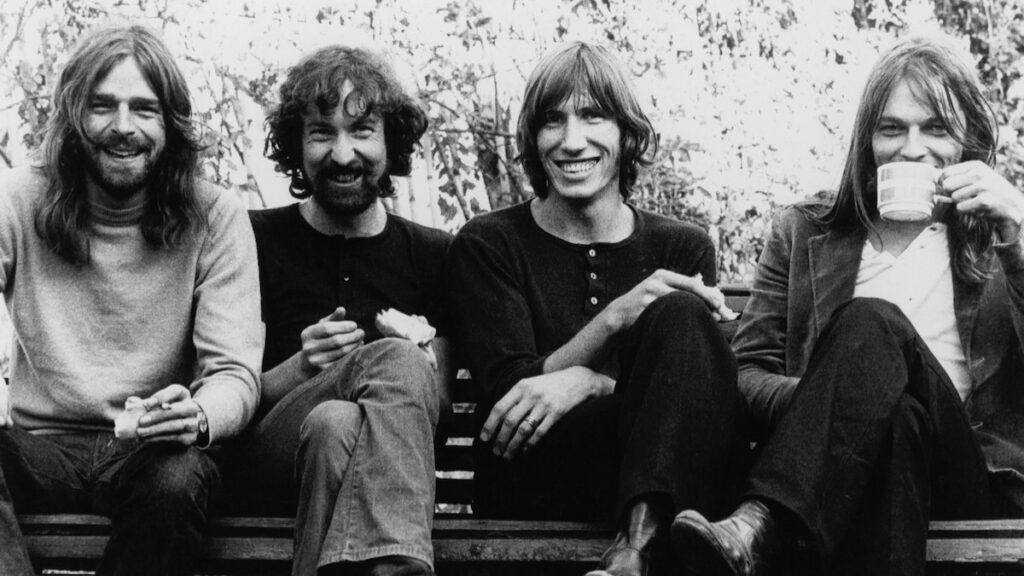 Rimasto nelle classifiche di vendita ininterrottamente fino al 1988, il disco cambiò per sempre la carriera della band segnando non solo un prima e un dopo nelle loro vite ma all'interno della stessa storia della musica.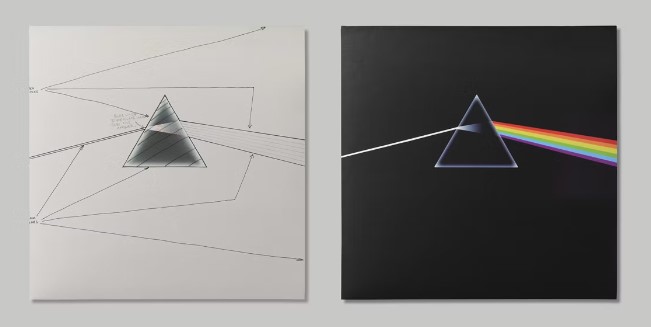 Suoni elettronici, tematiche innovative e sperimentazione sonora, non sono stati solamente i brani contenuti nel disco a renderlo un vero e proprio metro di riferimento per tutti gli amanti del genere, The Dark Side Of The Moon uno dei più iconici ed influenti album di sempre, continua a raccogliere nuovi ascoltatori in tutto il mondo è riuscito ad avvicinare alla musica colta milioni di ragazzi cresciuti negli anni '70, complice anche una copertina in grado di colpire in maniera trasversale il mondo della musica, dell'arte e della moda.
La copertina iconica, che rappresenta lo spettro di un prisma, venne progettata da Storm Thorgerson dello studio Hipgnosis e disegnata da George Hardie.
L'album venne concepito in parte durante le performance live e la band ne eseguì una prima versione in anteprima al London Rainbow Theatre prima che iniziasse la registrazione. 'The Dark Side Of The Moon' è l'ottavo album in studio dei Pink Floyd, originariamente pubblicato negli Stati Uniti il 1° marzo e poi nel Regno Unito il 16 marzo 1973.
Il nuovo materiale fu registrato tra il 1972 e il 1973 agli EMI Studios (ora Abbey Road Studios) a Londra.
 The Dark Side Of The Moon' ha venduto più di 50 milioni di copie in tutto il mondo.
Il nuovo COFANETTO DELUXE include:
CD e VINILE gatefold
con la NUOVA RIMASTERIZZAZIONE 2023 dell'album in studio
* audio Blu-Ray + DVD *
con l'originale mix 5.1 e le versioni stereo rimasterizzate.
  *audio Blu-Ray *con mix Atmos
 *The Dark Side Of The Moon LIVE AT WEMBLEY EMPIRE POOL, London, 1974'* CD/ LP  
*2×7" Singles*
*LIBRO FOTOGRAFICO – 160 pag *
*MUSIC BOOK – 76 pag.*
*MEMORABILIA*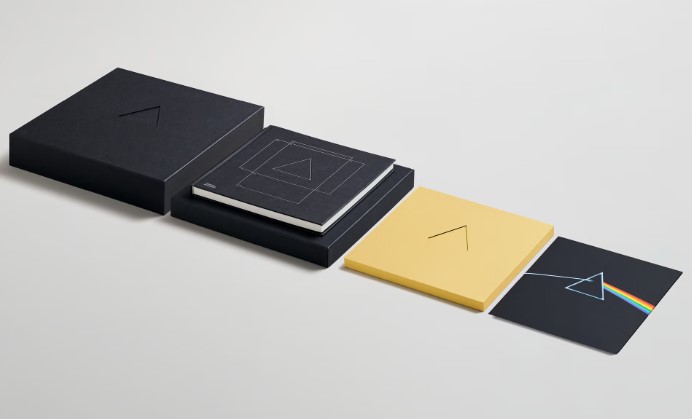 IL COFANETTO INCLUDE:
CD1 – THE DARK SIDE OF THE MOON
Remastered 2023 by James Guthrie
in gatefold sleeve with 12-page booklet
CD2 – THE DARK SIDE OF THE MOON
LIVE AT WEMBLEY EMPIRE POOL, LONDON, 1974
Mixed by Andy Jackson
in gatefold sleeve with 12-page booklet
LP1 – THE DARK SIDE OF THE MOON
Remastered original studio album
in gatefold, with original posters and stickers
LP2 – THE DARK SIDE OF THE MOON
LIVE AT WEMBLEY EMPIRE POOL, LONDON, 1974
in gatefold, with 2 posters
BLU-RAY 1 (AUDIO)
Original album 5.1 and high-resolution remastered stereo mixes,
in dedicated wallet:
1. 5.1 Surround Mix – 24bit/96kHz Uncompressed
2. Stereo Mix – 24bit/192kHz Uncompressed
3. 5.1 Surround Mix – dts-HD MA
4. Stereo Mix – dts-HD MA
BLU-RAY 2 (AUDIO)
Original album Atmos and high-resolution remastered stereo mixes,
in dedicated wallet:
1. Dolby Atmos Mix
2. Stereo Mix – 24-bit/192kHz Uncompressed
3. Stereo Mix – dts-HD MA
DVD (AUDIO)
Original album 5.1 and remastered stereo mixes,
in dedicated wallet:
1. 5.1 Surround Mix – Dolby Digital @448 kbps
2. 5.1 Surround Mix – Dolby Digital @640 kbps
3. Stereo Mix (LPCM) – 24-bit/48 kHz Uncompressed
——————————-
160-PAGE THAMES & HUDSON HARDBACK BOOK
with rare black and white photographs from the 1972 – 1975 tours of the UK and the USA taken by Jill Furmanovsky, Peter Christopherson, Aubrey Powell, Storm Thorgerson
76-PAGE MUSIC BOOK
of original album
MEMORABILIA:
REPLICAS OF 2×7" SINGLES
in Harvest bags:
7″ Single 1 Money/Any Colour You Like
7″ Single 2 Us And Them/Time
Replica dell'invito ufficiale di EMI all'anteprima di THE DARK SIDE OF THE MOON al LONDON PLANETARIUM IL 27 febbraio 1973
Album in studio registrato agli Abbey Road Studios di Londra tra maggio 1972 e gennaio 1973.
Prodotto dai Pink Floyd. L'ingegnere del suono Alan Parsons. Assistente Peter James. Mixaggio supervisionato da Chris Thomas.
Rimasterizzato da James Guthrie e Joel Plante al boot recording. Mix 5.1 e Atmos di James Guthrie.


Live At Wembley Empire Pool, Londra, 1974
registrato all'Empire Pool, Wembley, Londra, novembre 1974
Ingegneri: del suono Brian Humphries con Phill Brown.
Mixaggio audio di Andy Jackson, assistito da Damon Iddins. Masterizzato da Andy Jackson al Tube Mastering.




Direttore creativo 2023: Aubrey Powell/Hipgnosis
Design e direzione artistica: Peter Curzon/StormStudios
Concetto e design del 50° anniversario: pentagramma