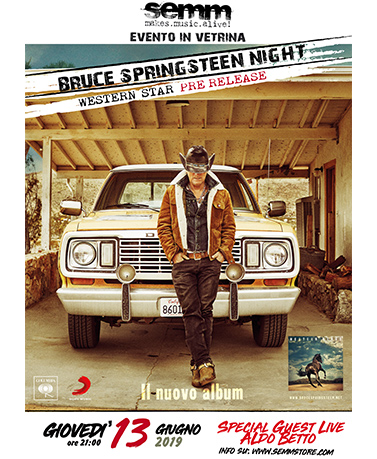 Details
About event
SAVE THE DATE!
BRUCE SPRINGSTEEN Opening Night
"Western Star" Pre Release Event
with ALDO BETTO live!
Siamo molto felici di annunciare che Sony Music Italy ha selezionato Semm nella lista dei pochissimi negozi che avranno disponibile in anteprima per la vendita il nuovo album del "Boss"!
•
📌 Giovedì 13/06/2019 ore 21.00
Apertura straordinaria da Semm per una serata interamente dedicata a "Western Stars", il nuovo attesissimo album di Bruce Springsteen, special guest Aldo Betto Live.
Ordina la tua copia e ottieni esclusivi gadget in edizione limitatissima realizzati in esclusiva per l'evento (fino ad esaurimento scorte).
—————————————————-
Se siete degli springsteeniani all'ultimo stadio o accorrete al richiamo del Boss solo quando pubblica un nuovo album e parte per i suoi leggendari tour, sappiate che non potete proprio farvi sfuggire la "Bruce Springsteen Night" che si terrà da Semm giovedì 13 a partire dalle 21.00!
Un'occasione unica per avere in anteprima la vostra copia in cd o vinile di "Western Stars", ma anche per ricevere dei gadget in edizione limitata distribuiti esclusivamente a pochissimi negozi di dischi indipendenti selezionati da Sony Music sul territorio italiano.
Ma non è finita qui, perché la notte di Semm sarà movimentata dalle sei corde di Aldo Betto (chitarrista di fama internazionale e leader del progetto Savana Funk), che ci farà rivivere la storia discografica dell'uomo di Asbury Park attraverso i riff più iconici che ne hanno costellato la carriera.
Nel 1974 Jon Landau scriveva: "Ho visto il futuro del rock'n'roll e il suo nome è Bruce Springsteen". Siamo fortunati, perché quel futuro non smette ancora di abbagliare.
Siete pronti per restare insieme a noi tutta la sera e vedere uscire fuori le stelle?
——
Per i nati nel 2000, con #18app, 500 euro da spendere in musica (cd/vinili) da Semm !!
——