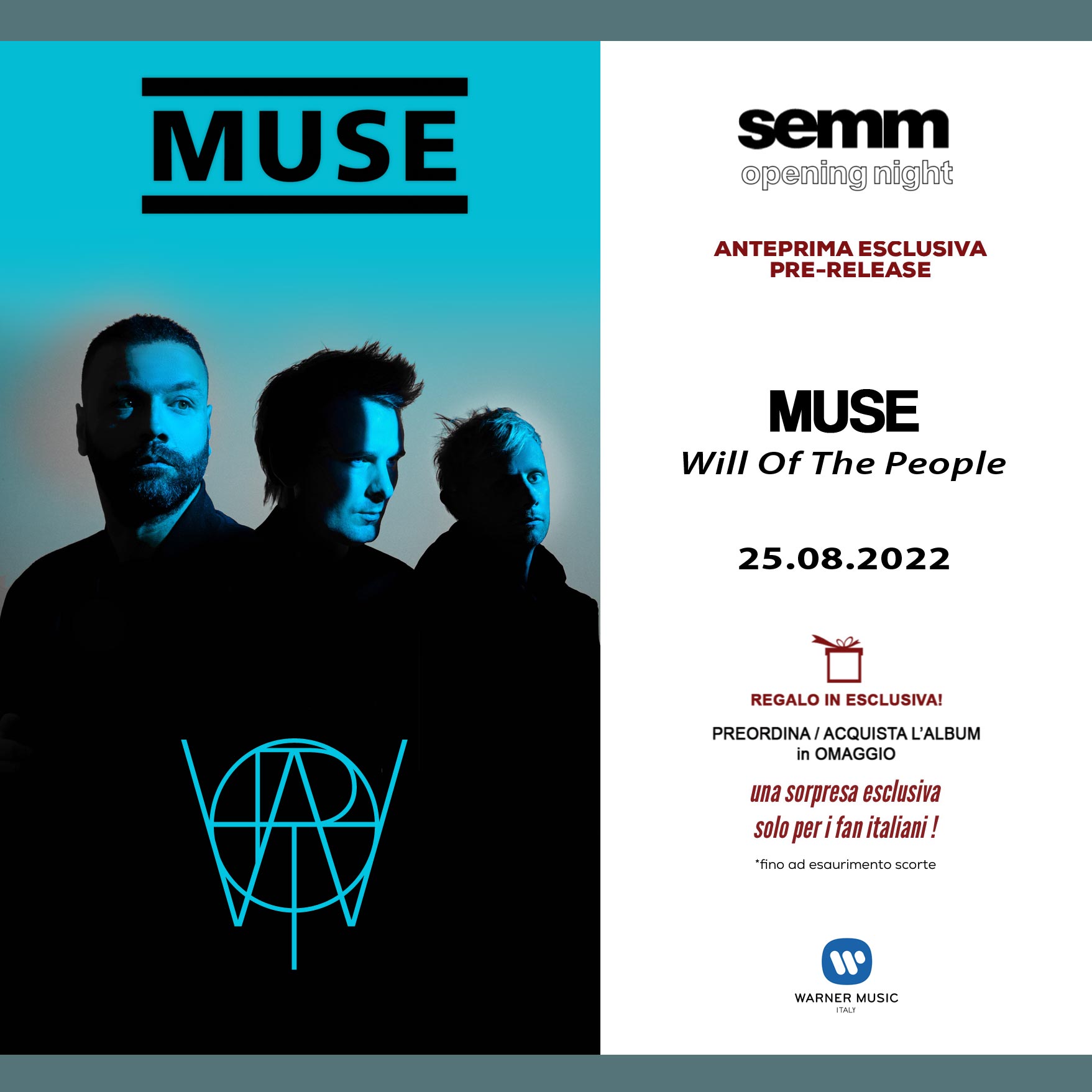 MUSE anteprima esclusiva . Opening Night 25.08.22
Semm Opening Night
MUSE  "Will Of The People"
vendita in anteprima nazionale
25/08/22
REGALO IN ESCLUSIVA PER I FAN ITALIANI
ACQUISTA l'album in anteprima⁣
in OMAGGIO l'esclusivo gadget limited edition⁣
*fino ad esaurimento scorte⁣  Consigliato preordine
Disponibile nei formati:
* CD
* LP vinile colorato bianco- limited edition / indie exclusive
* LP vinile nero
Import da tutto il mondo!
Nuovi arrivi ogni settimana!
prova il nuovo servizio
CLICK & COLLECT
ordini comodamente da casa e ritiri in negozio senza spese
—

– CHIAMA il 051225425
—

Con #18app, 500 euro da spendere in musica (cd/vinili) da Semm !!⠀⠀⠀
Siamo felici di annunciare di essere stati selezionati da Warner Music tra i pochissimi negozi in Italia per la vendita in anteprima del nuovo album di Muse "Will Of The People"
In occasione dell'uscita del disco, apriremo le porte del negozio eccezionalmente la sera del 25 agosto 2022 per una serata speciale dedicata all'uscita dell'album dove si potrà acquistare "Will Of The People" prima di tutti, e non solo!
Insieme al disco ci sarà in omaggio la bellissima shopper limited edition creata in occasione dell'evento solo per i fan italiani!
"Will Of The People è nato tra Los Angeles e Londra ed è influenzato dalla crescente incertezza e instabilità nel mondo. La pandemia, nuove guerre in Europa, massicce proteste e rivolte, un tentativo di insurrezione, destabilizzazione della democrazia occidentale, crescente autoritarismo, incendi e disastri naturali e la destabilizzazione dell'ordine globale hanno influenzato Will Of The People. È stato un periodo di preoccupazione e spaventoso per tutti noi poiché l'impero occidentale e il mondo naturale, che ci hanno cullato per così tanto tempo, sono veramente minacciati. Questo album è un viaggio personale attraverso quelle paure e la preparazione per ciò che verrà dopo".
dice il frontman della band Matt Bellamy a proposito dell'album
Will Of the people è stato prodotto dai Muse.
I collaboratori più importanti includono il mixaggio di otto tracce da parte del vincitore di un Grammy Award Serban Ghenea , il mixaggio di Dan Lancaster su "Won't Stand Down" e un ulteriore mixaggio su "Kill Or Be Killed" di Aleks von Korff.
Ampiamente riconosciuta come una delle migliori band live al mondo, i Muse hanno ricevuto numerosi riconoscimenti tra cui due Grammy Awards, un American Music Award, cinque MTV Europe Music Awards, due Brit Awards, undici NME Awards e sette Q Awards tra i tanti.
Dopo l'esibizione a Firenze Rocks del mese scorso, i Muse torneranno in Italia  il prossimo 26 ottobre all'Alcatraz di Milano.