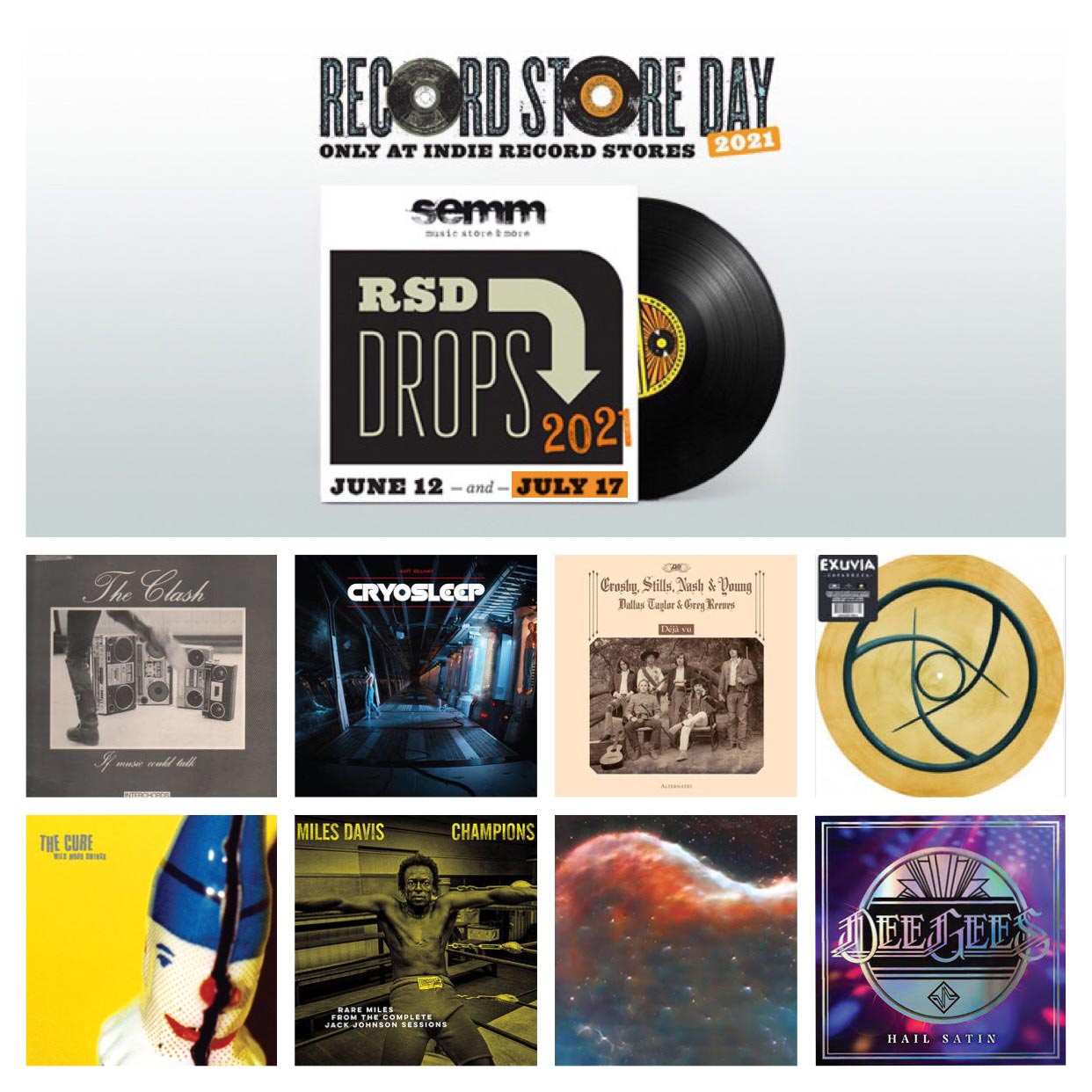 Record Store Day Drops 2 – Luglio 2021
Ritorna il Record Store Day Drops e le sue attesissime uscite in edizione limitata. Ormai ci siamo: il secondo appuntamento di quest'anno è per sabato 17 luglio!
Dopo la scorpacciata del 12 giugno eccoci pronti a scoprire i nuovi titoli – rigorosamente in vinile – da mettere sul giradischi.
Curiosi? Eccone qualcuno:
THE CURE "Wild Mood Swings" 
 BJORK E HAMRHALID CHOIR "Cosmogony"
MILES DAVIS "Champions: Rare Miles From The Complete Jack Johnson Sessions"
DEE GEES (FOO FIGHTERS) "Hail Satin"
MATT BELLAMY "Cryosleep"
CROSBY, STILLS, NASH & YOUNG "Deja Vu Alternates"
CAPAREZZA "Exuvia" (Picture disc)
THE CLASH "If Music Could Talk"
Per conoscere tutti gli altri non vi resta che venire da Semm sabato e godervi l'esperienza, o dare un occhio alle liste pubblicate sul sito ufficiale del Record Store Day e contattarci per fare una prenotazione.
Viva il Record Store Day! #musicmakestheworldabetterplace
Attenzione: ingresso contingentato nel rispetto integrale di tutte le disposizioni nazionali e locali, per la limitazione del contagio da "COVID-19", ivi inclusi i protocolli e le linee guida vigenti.
———————————————————
• ⚠️ Attenzione la tiratura delle uscite RSD è limitatissima!!
• Qui il link con tutti i titoli Record store Day.
• ⏳ L' assegnazione copie seguirà l'ordine cronologico di ricevimento mail!
• 🛒Ordina via mail semm@semmstore.com
• 🚛 Spediamo in tutta Italia /estero⠀⠀
• ⚠️ Con #18app, 500 euro da spendere in musica (cd/vinili) da Semm!!