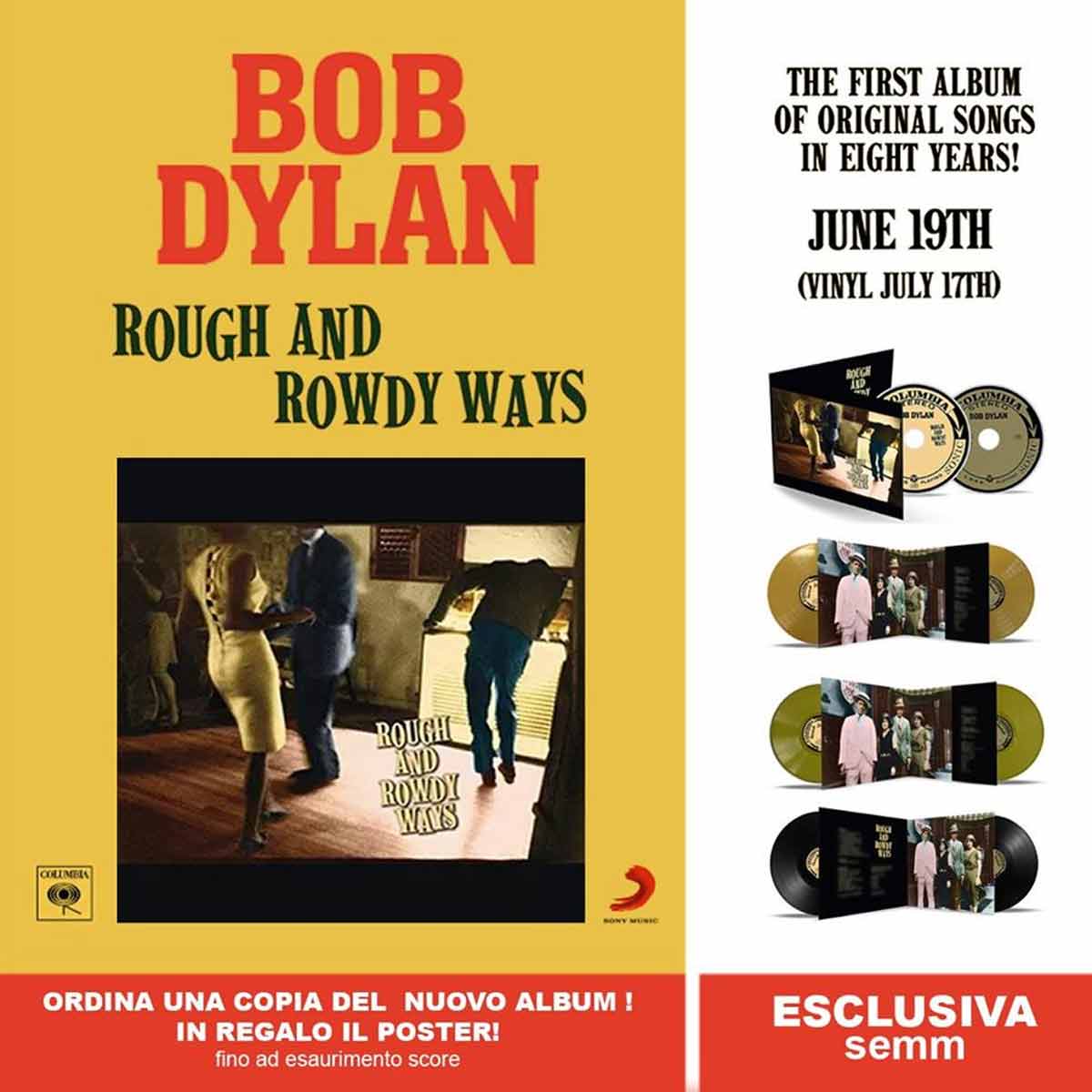 Bob Dylan  "Rough and Rowdy Ways"
[Semm NOVITA']
Bob Dylan
"Rough and Rowdy Ways"
CD (2cd) – uscita 19/06/20
LP – (2lp 180gr) versione nero/oro/ verde – uscita 17/07/20
Esclusiva Semm! ordina la tua copia (cd/lp) e ricevi in regalo il poster in edizione limitata!

————————–————————–————————–—
Manca solo qualche giorno all'uscita di "Rough and Rowdy Ways", il nuovo attesissimo disco di Bob Dylan, anticipato per la prima volta a fine marzo con i sedici minuti della commovente Murder Most Foul.
Siamo orgogliosi di comunicarvi che Semm è tra i negozi italiani selezionati in cui, insieme all'acquisto del cd o dell'lp, vi verrà regalato anche il poster esclusivo ispirato alla bellissima grafica dell'album!
–
Un nuovo disco di Bob Dylan è sempre un grande evento, ma questa volta ha anche un significato particolare. Il leggendario cantautore americano, Nobel per la letteratura nel 2016, ha infatti rilasciato un'intervista fiume al New York Times, in cui esprime parole durissime sull'omicidio di George Floyd e parla a lungo delle nuove canzoni contenute in "Rough and Rowdy Ways". Sono state scritte a ridosso degli ultimi mesi, con la volontà di non dare delle risposte ma far riflettere attraverso rimandi e citazioni: dalla beat generation all'omicidio Kennedy, passando per i Rolling Stones e, ovviamente, la Bibbia.
Si tratta del primo album di inediti dal 2012 di "Tempest"… e noi non vediamo l'ora di ascoltarlo.