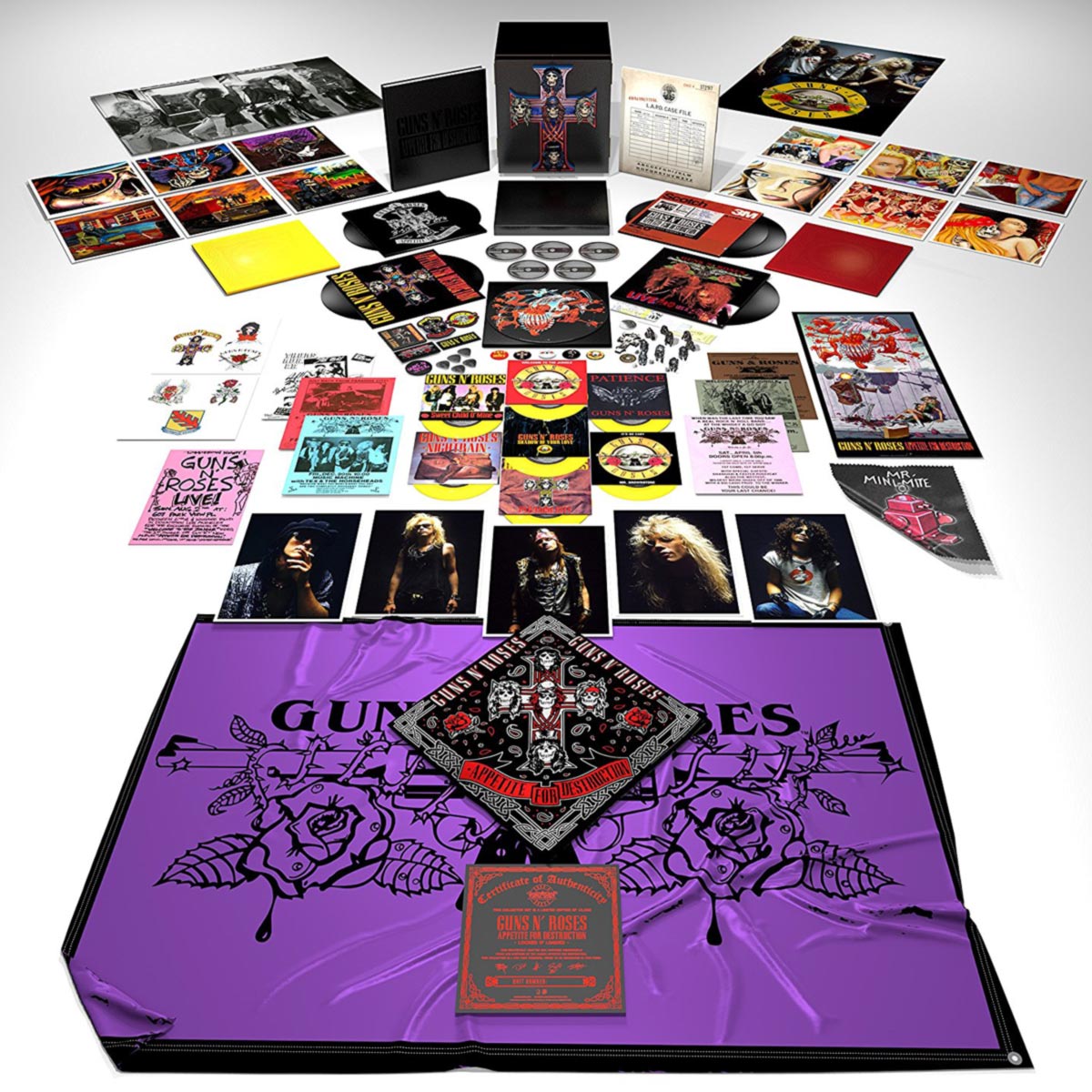 GUNS N' ROSES "Appetite For Destruction" Locked N' Loaded
4 CD | 7 LP | 49 brani inediti | 7 singoli 7″ | Memorabilia | Gadget e tantissimo altro… !
Megabox Special Limited Edition – Solo 10.000 copie in tutto il mondo!!
---
A 31 anni di distanza il celebre disco di debutto della band di Axl Rose e Slash: "Appetite For Destruction", è tornato in una maestosa riedizione in versione megabox super deluxe limited edition per celebrare l'anniversario della sua uscita con 49 brani mai pubblicati e memorabilia!
Un vero scrigno dei desideri che rappresenta la realizzazione di un sogno per tutti i fan della band di Los Angeles.
Il nostro Riccardo ci introduce alla scoperta dei tesori contenuti in questo immenso box celebrativo dei Guns n'Roses
---
Confezionato in una scatola di legno massello di circa 30x30x30 cm avvolta in finta pelle stampata in rilievo, immediatamente identificabile con una croce 3D scolpita e dipinta a mano, Appetite For Destruction: Locked N 'Loaded Edition è chiaramente l'unico vero Sacro Graal dei GN'R.
La scatola racchiude tutto ciò che i fan desiderano e non solo; le prime ispirazioni per l'album (rimasterizzate a partire dai nastri analogici stereo originali), 12 tracce anch'esse rimasterizzate tratte da EP e B-side dell'epoca,
25 demo inediti dalla Sound City session del 1986 e 2 brani ineditidalle sessioni di registrazione di Appetite a cura del produttore Mike Clink: "Shadow Of Your Love", registrata nel dicembre 1986, un mese prima della registrazione dell'album, e "Move To The City" (1988 Acoustic Version) tratta invece dalle session di GN'R Lies.
***
Altri importanti brani inediti sono le prime due prove di registrazione del capolavoro epico del 1991 "November Rain", originariamente scritto come ballata per Appetite, e le cover di canzoni come "Heartbreak Hotel" di Elvis Presley, "Mama Kin" degli Aerosmith, due registrazioni differenti di "Jumpin 'Jack Flash" (una elettrica, l'altra acustica) dei Rolling Stones e due jam incompiute di "The Plague" e "New Work Tune".
Per quanto riguarda il vinile, l'originale album Appetite For Destruction è stato per la prima volta ampliato in 2LP, con copertina apribile e grafica estesa, racchiusa in uno slipcase di plastica stampato in edizione limitata. La musica viene presentata su tre lati per garantire la massima fedeltà sonora, mentre nel quarto lato è riprodotto l'ologramma dell'iconico logo della band.
Sono inclusi anche sette Singoli da 7 pollici:
i cinque Singoli originali dell'album, "Patience" e la nuova e già citata "Shadow Of Your Love". Le bonus track che appaiono su vinile da 12 pollici saranno disponibili solo nella confezione di Locked N 'Loaded inclusa la ristampa del primo EP della band Live ?!*@ Like a Suicide.
***
1 Blu-ray Audio contiene le 12 canzoni dell'album originale recentemente mixate dal leggendario produttore Elliot Scheiner (Steely Dan, Eagles) nel glorioso Audio Surround a 96 kHz / 24 bit a partire dai multi-traccia originali, oltre a 5 bonus track mixate in Surround 5.1 da Scheiner e Frank Filipetti (Billy Joel, Elton John). Il Blu-ray include anche quattro leggendari video musicali dei GN'R che sono stati recentemente sincronizzati sia con audio Stereo rimasterizzato sia con i nuovi mix audio Surround 5.1, oltre ad un nuovo video, trasferito da pellicola 16mm in 4K HD: "It's So Easy", girato nel 1989 e mai completato fino ad ora.
***
Nella confezione sono inclusi ancora oggetti da collezione esclusivi:
12 litografie 30×30 cm di nuove illustrazioni dedicate a ciascun brano di Appetite,
5 distintivi personalizzati con vari loghi della band
5 anelli personalizzati con teschi in metallo fuso scolpiti a mano,
5 spille a forma di teschio personalizzate con le facce dei membri della band, anch'esse in metallo fuso scolpito a mano
1 replica del primo manifesto live del gruppo nel periodo dei club '85 / '86
1 bandana
1 moneta da collezionista da 2 pollici con immagini esclusive stampate su entrambi i lati
2 poster da parete 70×100 cm
1 litografia dipinta da Robert Williams 30×70 cm
5 litografie mai viste prima,
6 volantini dei concerti (repliche)
3 biglietti di concerti storici (repliche )
2 fogli con i tatuaggi dei membri della band a grandezza naturale
6 toppe cucite con il filo di ferro
5 plettri metallici per chitarra con cranio e firme
1 tappetino per giradischi
1 panno in microfibra per la pulizia del vinile
1 adattatore personalizzato da 7 pollici a foro grande
1 chiavetta USB da 32Gb in metallo con 192kHz / 24-bit, 96kHz / 24-bit e 44.1kHz / 16-bit file con i file audio non compressi di tutte le tracce incluse nei 4 CD.
fonte: VIRGINRADIO.IT
---
---
Ecco l'infinita e maestosa tracklist di Appetite For Destruction: Lock N' Loaded Edition
Disc One – Appetite For Destruction
01. Welcome To The Jungle
02. It's So Easy
03. Nightrain
04. Out Ta Get Me
05. Mr. Brownstone
06. Paradise City
07. My Michelle
08. Think About You
09. Sweet Child O' Mine
10. You're Crazy
11. Anything Goes
12. Rocket Queen
Disc Two – B-sides N' EPs
01. Reckless Life
02. Nice Boys
03. Move To The City (Live)
04. Mama Kin
05. Shadow Of Your Love (Live)
06. You're Crazy (Acoustic Version)
07. Patience
08. Used To Love Her
09. You're Crazy
10. It's So Easy (Live)
11. Knockin' On Heaven's Door (Live)
12. Whole Lotta Rosie (Live)
Disc Three – 1986 Sound City Session
01. Welcome To The Jungle (1986 Sound City Session)
02. Nightrain (1986 Sound City Session)
03. Out Ta Get Me (1986 Sound City Session)
04. Paradise City (1986 Sound City Session)
05. My Michelle (1986 Sound City Session)
06. Think About You (1986 Sound City Session)
07. You're Crazy (1986 Sound City Session)
08. Anything Goes (1986 Sound City Session)
09. Rocket Queen (1986 Sound City Session)
10. Shadow Of Your Love (1986 Sound City Session)
11. Heartbreak Hotel (1986 Sound City Session)
12. Jumpin' Jack Flash (1986 Sound City Session)
Disc Four – 1986 Sound City Session N' More
01. Shadow Of Your Love
02. Move To The City (1986 Sound City Session)
03. Ain't Goin' Down No More (Instrumental Version – 1986 Sound City Session)
04. The Plague (1986 Sound City Session)
05. Nice Boys (1986 Sound City Session)
06. Back Off Bitch (1986 Sound City Session)
07. Reckless Life (1986 Sound City Session)
08. Mama Kin (1986 Sound City Session)
09. New Work Tune (1986 Sound City Session)
10. November Rain (Piano Version – 1986 Sound City Session)
11. Move To The City (Acoustic Version – 1986 Sound City Session)
12. You're Crazy (Acoustic Version – 1986 Sound City Session)
13. November Rain (Acoustic Version – 1986 Sound City Session)
14. Jumpin' Jack Flash (Acoustic Version- 1986 Sound City Session)
15. Move To The City (1988 Acoustic Version)
Blu-Ray Audio
01. Welcome To The Jungle
02. It's So Easy
03. Nightrain
04. Out Ta Get Me
05. Mr. Brownstone
06. Paradise City
07. My Michelle
08. Think About You
09. Sweet Child O' Mine
10. You're Crazy
11. Anything Goes
12. Rocket Queen
Bonus Tracks
01. Shadow Of Your Love
02. Patience
03. Used To Love Her
04. You're Crazy
05. Move To The City (1988 Acoustic Version)
Music Videos
01. Welcome To The Jungle
02. Sweet Child O' Mine
03. Paradise City
04. Patience
05. It's So Easy (Brand New Video From 1989)